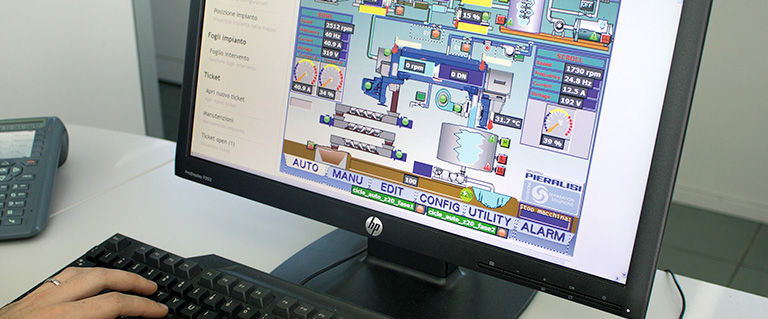 Pieralisi's TcP - Remote control service
With Pieralisi's TcP - Remote control service, the decanter centrifuge's mechanical and electrical functionalities are monitored 24/7.
TcP is designed to:
view the operating parameters remotely;
optimise the preventive replacement of components;
diagnose and, in many cases, solve problems remotely thanks to Pieralisi's service, without the need to intervene on site;
receive any anomaly and maintenance notifications by text message, e-mail and Telegram;
store the decanter centrifuge's operating data and configurations.
Customers can monitor the correct operation of their centrifugal extractor, wherever and whenever, as well as receive real-time alerts for maintenance and possible anomalies.
Industry 4.0
Pieralisi's Remote control meets the requirements of the 2020-2021-2022 Italian Transition Plan 4.0, allowing companies to benefit from Tax Credit when they invest in Tangible and Intangible Assets 4.0.
2021 INVESTMENT BONUS (by 30/06/2022 with an order and a 20% deposit by the end of 2021)
A bonus amount is envisaged in the form of tax credit totalling:
50% for investments up to Euro 2.5 million;
30% for investments up to Euro 10 million;
10% for investments up to Euro 20 million;
20% for the purchase of INTANGIBLE instrumental ASSETS (software) functional to technological transformation in accordance with the Industry 4.0 model (specified in Annex B to Italian Law no. 232/2016) with a maximum limit of Euro 1 million.
The Tax Credit can only be used to compensate for other taxes or contributions upon presentation of an F24 tax return form, starting in the year of asset interconnection. For further information: Italian Law 178/2020 (2021 Budget Law) published in the Gazzetta Ufficiale Serie Generale Official Journal no. 322 dated 30/12/2020 - Ordinary Supplement no. 46