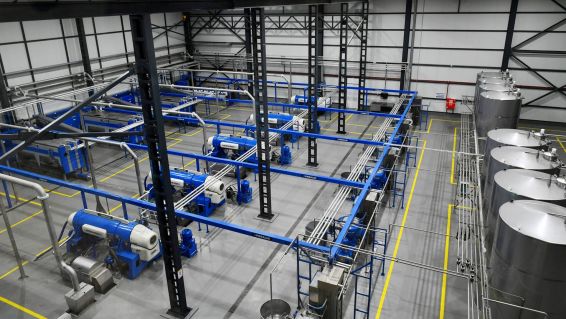 Case histories
Absheron Olive Garden LLC
Design and implementation of a complete olive oil mill with the capacity to process 34.5 tonnes of olives/h. This was the challenge set for Pieralisi by Absheron Olive Garden LLC, based in Baku, Azerbaijan. Months of work leading to the supply and installation of the largest facility in Central Asia, from olives receipt to bottling.
There has been a remarkable evolution of the investments dedicated to olive oil production in the Middle East and Central Asia region, which has become increasingly competitive thanks to the choice of high-tech equipment.
This case history is a major example and the story starts in the area of Baku, Azerbaijan with 700 hectares of olive trees. It is here that Absheron Olive Garden LLC chose to use advanced technology right from the start with the aim of achieving outstanding quality. Pieralisi was commissioned to provide a facility including not only extraction equipment, but also storage, filtration and bottling lines.
Multi-Phase Decanter (DMF) technology is therefore used in the facility, bringing significant advantages in terms of production and sustainability. It not only improves the quality of the extracted oil but is also able to separate the pulp from the pomace (ideal for reuse in composting or animal feeding) and eliminate the production of vegetation water, reducing the environmental impact.
The production process involves:
Washing section: it includes olives harvesting, defoliation, debranching and washing.
Extraction section: the core of the process, including separation of olive oil, pulp and pomace thanks to one complete Leopard 6 line, three Leopard 10 lines and one Leopard 10 second-extraction line.
Storage section: the extracted olive oil is sent to 16 x 15 m3 tanks. Once decanted, it is then sent to 32 x 88 m3 tanks and then to the bottling section.
Filtering and bottling section: a cartridge filter is used, after which the olive oil is sent to 5 x 5 m3 tanks, then to the bottling and labelling line, including corking and capper, with a capacity of 1,500 bottles/h.
Pulp processing section: the extracted pulp feeds the second extraction line so to minimize any possible olive oil loss. This portion is then sent to 10 x 22 m3 tanks.
Using a Circular Thinking approach, the entire facility concept has been designed with a dedicated sustainability perspective. As a matter of fact, another important stage is the separation of the kernel, which is extracted and transferred to the facility boiler so to be used for the production of hot water required for the malaxing process.
Construction of the building aside, Pieralisi has been responsible for all the activities, delivering a turnkey project, including installation, commissioning and test-run. A dedicated Pieralisi team also provided staff training and hands-on support during the first season.
The exceptional nature of the project was confirmed by the inauguration, celebrated in the presence of the President of Azerbaijan, Ilham Aliyev.